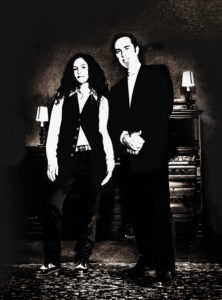 Hamilton-based RootBone is lead by Juno Award winning guitarist Darran Poole, formerly part of the acclaimed Canadian blues band Fathead, and percussionist Bobbi Richards.
The band's rhythm section is powered by veteran musicians from both Fathead and the Downchild Blues Band.
Our debut album "The Long Road Home" charted at #35 on the Roots Music Report's 'Best Blues Rock Albums of 2016'.
Additionally, our release remained in the Roots Music Report Top 10 Canadian Albums for over 3 consecutive months, reaching the #2 position in October of 2016.
Musicians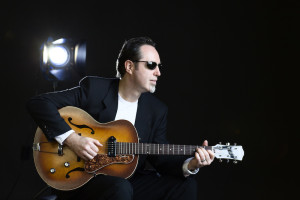 Darran Poole – All guitars, lead vocals and backup vocals:
Singer/Songwriter & Guitar slinger Darran Poole is a former member of the acclaimed Canadian blues band Fathead. Darran has also played with The Gary Kendall Band, Mark "Bird" Stafford, Phil Guy, Guitar Shorty, Dawn Tyler Watson and The Maple Blues Revue.
Darran has a Juno Award for "Blues Album of the Year" from his work with Fathead.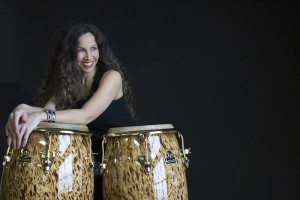 Bobbi Richards – Congas and backup vocals:
"The Long Road Home" introduces Bobbi who is an accomplished poet and lyricist with an extensive background in percussion.  Bobbi has previously contributed lyrics to a Juno Award willing album "Building Full of Blues".
Bob "Omar" Tunnoch – Bass and backup vocals:
Omar is a 25 year veteran member of the Juno award winning band Fathead.  Omar has also played in seminal Toronto bands Whiskey Howl and Wooden Teeth.  He has shared the stage with iconic blues artists such as John Lee Hooker, Etta James and Paul Butterfield.
In addition to Omar's two Juno Awards, he has also been nominated for several Maple Blues Awards for his bass work.
Tyler Burgess – Drums and backup vocals: 
Tyler has worked with many notable artists including Downchild Blues Band and Stompin' Tom Conners.  
What People Are Saying
"Rootbone's debut album "The Long Road Home" is a killer! Guitar player and vocalist, Darran Poole and lyricist Bobbi Richards can be truly proud of their first CD. I can hardly wait for the next one!

"RootBone compels you to sit back, relax and listen to good blues tracks. If you love the sounds of Bo Diddley, John Lee Hooker, and others from the Chess family, The Long Road Home is an album to play from beginning to end." . . ."Excellent Band!"  (JR Miller – High Note Music)

"Poole's double chorus guitar solo screamed, "sit up dude, you're in for a listen! 

. . . original songs that tout the full range of roots blues textures and grooves. Nothing ever gets boring. . . 

Kudos to the production team and arrangers [Darran Poole] for creating interest and variety all throughout the album."  ( Glen Brown – Greater Hamilton Musician

)

"The Long Road Home has character before you even press play . .you can feel the influence of many different genres bleeding into each chord, each song. You have rock, with some obvious blues done with perfection.  RootBone has definitely made their mark on the music scene with their first album release The Long Road Home. " (Heather Young – Canadian Beats

)

"Poole's decision to step up front is a welcome one indeed, he has a warm, expressive voice and he has some very good songs to work with that he & Richards wrote." (John Valenteyn – Toronto Blues Society)

"Guitarist Darran Poole is a marvel of craft and taste, every note razor-sharp and delivered with carefully considered precision."  (John Taylor – Canadian Blues)

". .Traditional blues pattern and romping slide guitar that would make Muddy Waters or Bob Margolin blush."  (Tim Holek – Great Lakes Blues Society)

". .Darran brings his own distinct style, characterized by roots-heavy, fat-toned guitar. ."  (Al Lerman – Fathead)

"Darran's guitar just oozes tone.  (Glen Kimberley – musician)